Cancer Survivorship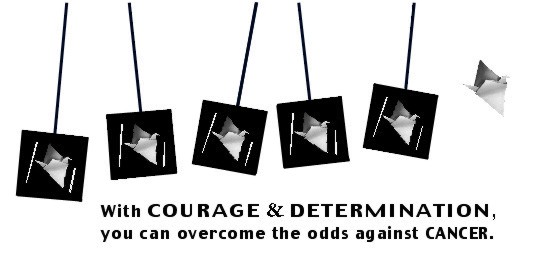 For the first time, in conjunction with the World Cancer Survivors' Day on 6 June 2004, Singapore's National Cancer Centre organized the Cancer Survivors' Day for local cancer patients to join in the celebration of life.
National Cancer Survivors Day is an annual, worldwide Celebration of Life that is held on the first Sunday in June, in many participating countries. Cancer survivors unite in a symbolic event to show the world that life after a cancer diagnosis can be a reality - an idea initiated by Mr Richard Bloch, a cancer survivor, when he held the first Cancer Survivors Rally on the first Sunday in June 1986 in Kansas City.
Indeed, it is important for cancer patients to understand that a diagnosis of cancer is not an automatic death sentence.


"From the moment of diagnosis and for the balance of life, an individual diagnosed with cancer is a survivor."
National Coalition for Cancer Survivorship(NCCS) United States
(http://www.canceradvocacy.org)

Many people do wrestle with the term "cancer survivor". (After all, we are all survivors of something!) Some people even ask, "Why set cancer survivors apart?" However, instead of getting bogged down in the nuances of what the word means to different people, I urge everyone who has experienced cancer to take this opportunity to not be set apart by the term, but to come together in order to advocate for those who come after us. In my ideal world, I would like to see the concept of survivorship morph into the word "advocate"! The simplest definition of the word advocate is "one who takes action to help someone else".

If you have recovered enough from your own cancer experience to move beyond self-advocacy (a very important first step!), maybe this is the year that you can now take action to help someone else have an easier journey than you have had.

May we all have many more years to celebrate and enjoy all aspects of our survivorship!
Diana Dyer, MS, RD (neuroblastoma and breast cancer survivor)
(http://www.dianadyermsrd.com)

Contributor of CancerStory.com's first story
Appreciation

We would like to express our sincere thanks to the following cancer survivors who have come forward to assist in counseling and sharing of cancer experiences with the other cancer patients and to all contributors of stories who shared with us their cancer experiences to help motivate others:
Mr Alvin Choo (Nose cancer survivor)


Mr Louis Ng (Colorectal cancer survivor)


Mr Michael Ng (Leukemia cancer survivor)


Ms Nora Ng (Breast cancer survivor)


Mr Victor Ong (Kidney cancer survivor)


Mrs Winnie Kwang (Breast cancer survivor)


Ms Sharon Lim (Colorectal cancer survivor)


Late Mdm Florence Heng (Breast cancer)


Late Mdm Joanna Chan (Ovarian cancer)


Book written by "cancer advocate" Late Mdm Florence Heng
On 9 April 2005, Florence launched her first book, My Journey with Breast Cancer - Awakening. The proceeds from the sale of her books was donated to the Breast Cancer Foundation.
CancerStory.com received complimentary copies of Florence's book and had donated 10 copies to the National Library Board on 11 April 2005 so that local web surfers can borrow it from their nearest library branches.
Author's Sharing

My Journey with Breast Cancer - Awakening was created to share the story of my journey with the illness, in hope that this book would help someone in need and to reach out to other survivors. May you be encouraged by the love, support and inspiration that fill these pages. To put my cancer experience into a book is also to leave a legacy for my daughters. Even a hard journey has many happy memories.

Note : Florence passed away peacefully on 18 December 2005.

My quote in Florence's book:
"The power of people is real. They provide love and care that can help patients lead a better quality of life, prolonging life or even a full recovery. Doctors call this a miracle. In her journey with breast cancer, Florence had also received tender care from her late aunty Mdm Sally Wong.

CancerStory.com recognizes Florence as a "Cancer Advocate" who has recovered enough from her own cancer experience to move beyond self-advocacy and now steps forward to help others have an easier journey. Besides this book, Florence also hosts a website at www.florenceheng.com, to share her cancer experience with breast cancer survivors.
Updated on 5 February 2007